Wondering how to get a compliment? Don't feel shy about it. While you'd never let on that being openly praised is your goal at a party, it is an end game worth going after.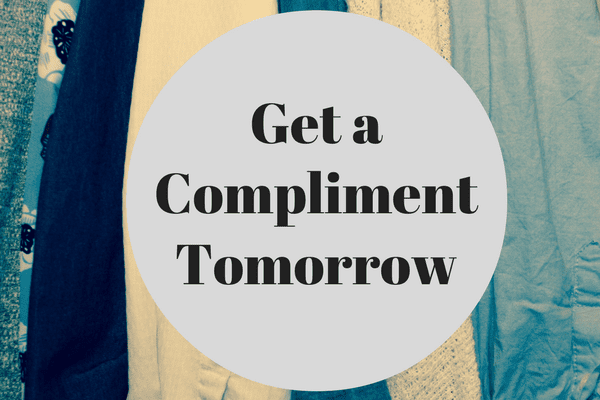 Why You Should Want a Compliment or Two
For starters, praise can induce feelings of happiness, motivation, and even improve memory and task performance, according to a study out of the National Institute for Psychological Sciences in Japan.
Another study, published in the journal Neuron, showed that receiving a compliment causes a psychological boost akin to being given cash. An area of the brain called the striatum is activated in both circumstances, demonstrating that how we perceive ourselves to be viewed by others has a major impact on our behaviors. (Thanks to Kaia Roman at Mind Body Green for translating the data).
Knowing all that, it's well worth it to stack the deck in your favor every once in while.
How to Get a Compliment: The Level Up Method
Luckily, the secret lies in a fairly simple styling technique. The only prerequisite is a knowledge of how you normally dress. Then, when planning your next outfit, follow these steps:
Pull out what you would normally wear.

Below, the first look is an example of what I was planning to wear to my friend's daughter's birthday party, taking place on a Saturday, in a fairly casual setting. It's normal weekend wear for me: striped T, skinny jeans, moto boots.

Choose an occasion that is a "level up" in dressiness.

In my case, a work party would be a dressier occasion than a kid's party, so that's what I imagined.

Swap out one item that will "level up" your first look.

Now you are going for the dressiness required of your "step 2 occasion." In my case, swapping jeans for a pleated black midi skirt took my outfit from casual to festive. I wore the skirt to the kid's party, and brought an elevated mood with me.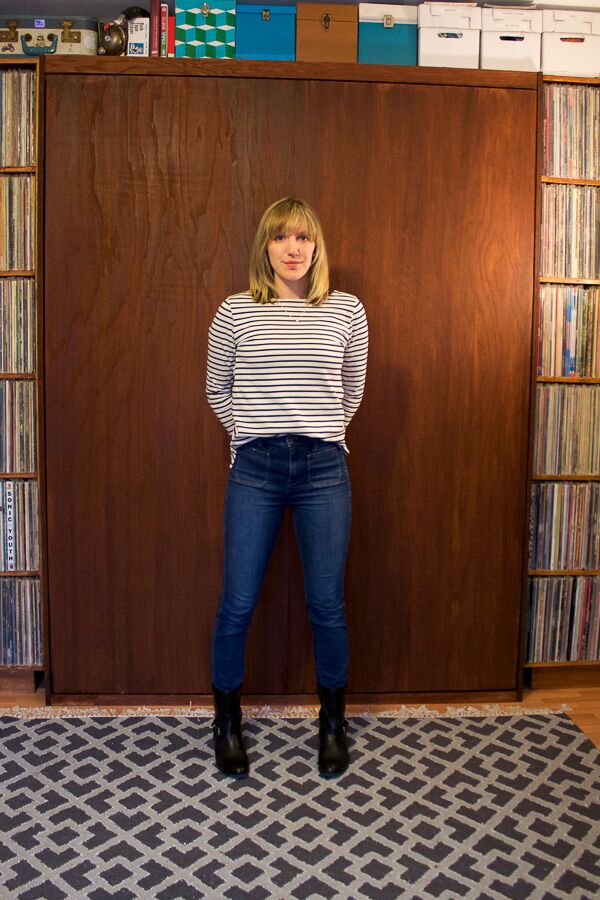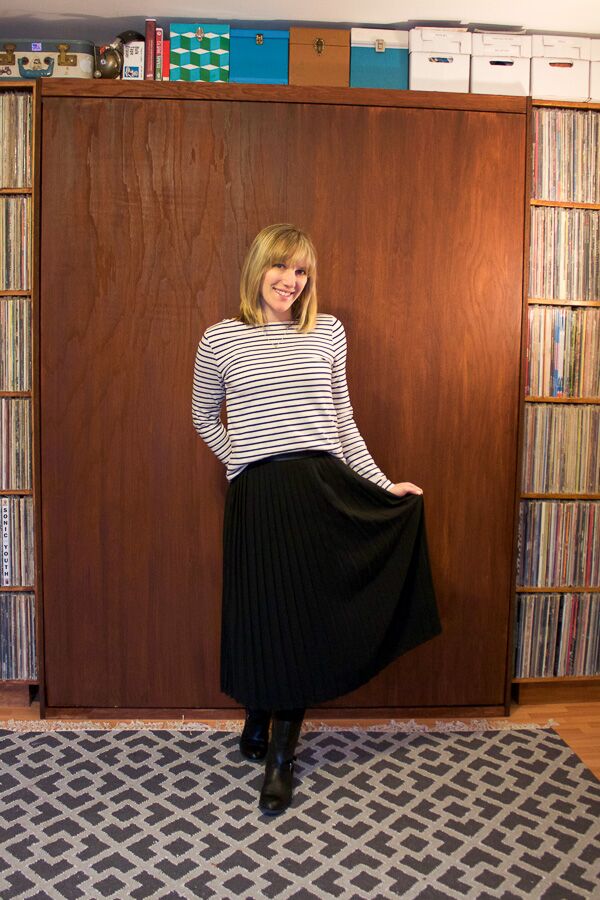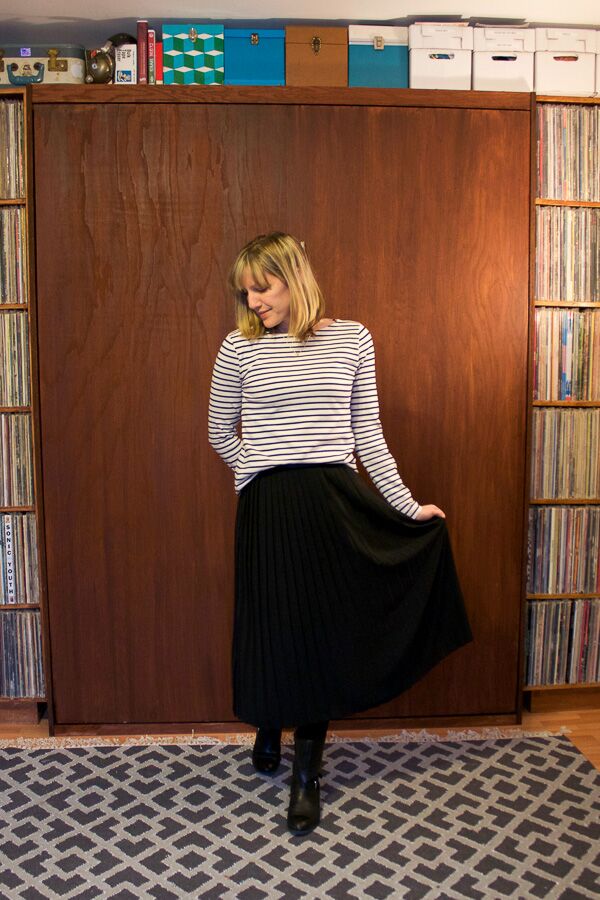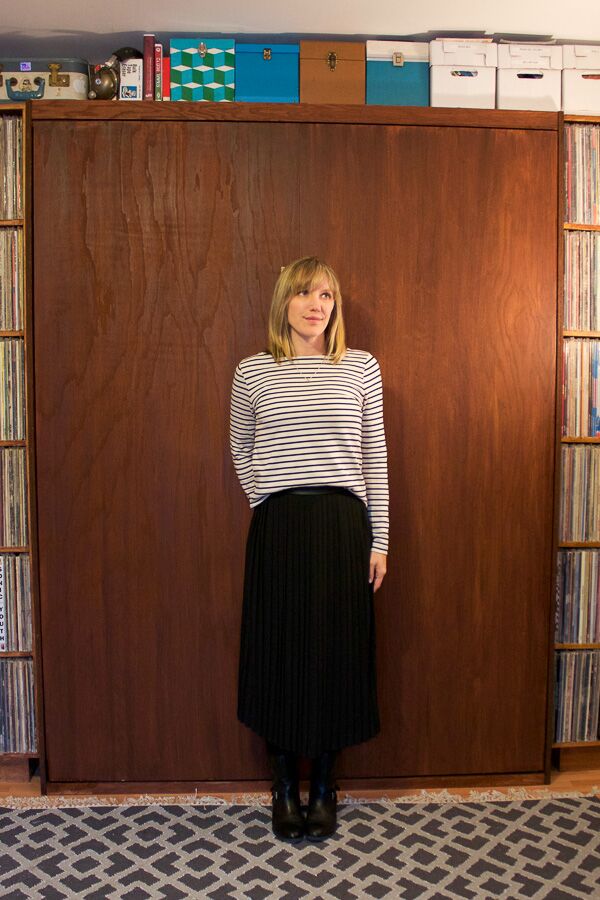 You can apply this framework to any situation. For instance, if it's:
A regular workday – level up to what you'd wear on a day when you had a presentation to give.

Date night on a Tuesday – level up to what you might wear on a Friday.

An informational interview – dress as if it were a full-fledged job interview.
In each case you might feel overdressed, but you'll also be sending a signal to whoever you are with that you're really engaged in them, and the occasion.
Now, while this method works for me most of the time, it doesn't always happen in the way I think. For instance, I may not get a direct compliment on my outfit. It might be a general compliment. It might be a warmer greeting than usual. Or, in a few cases, the compliment might not come at all.
Positive Side Effects of the Level Up Method
But there are two positive side effects of the Level Up Method that don't rely on the compliment itself.
You will wear more of your closet, more often. The

Wall Street Journal

recently reported that Americans only wear about 20% of what's in our closets. This method forces you to make use of those "special" pieces.

You will have a better day. A study out of

Columbia

showed that people dressed in clothes they, themselves, considered to be more formal outperformed their peers in negotiating tasks due to a higher level of strategic thinking. This can have applications in a ton of daily situations.
Good luck leveling up!
Featured Items:
Shirt: J. Crew Factory
Jeans: Madewell
Boots: Old from Ralph Lauren, similar here
Skirt: Old from Banana Republic, similar here