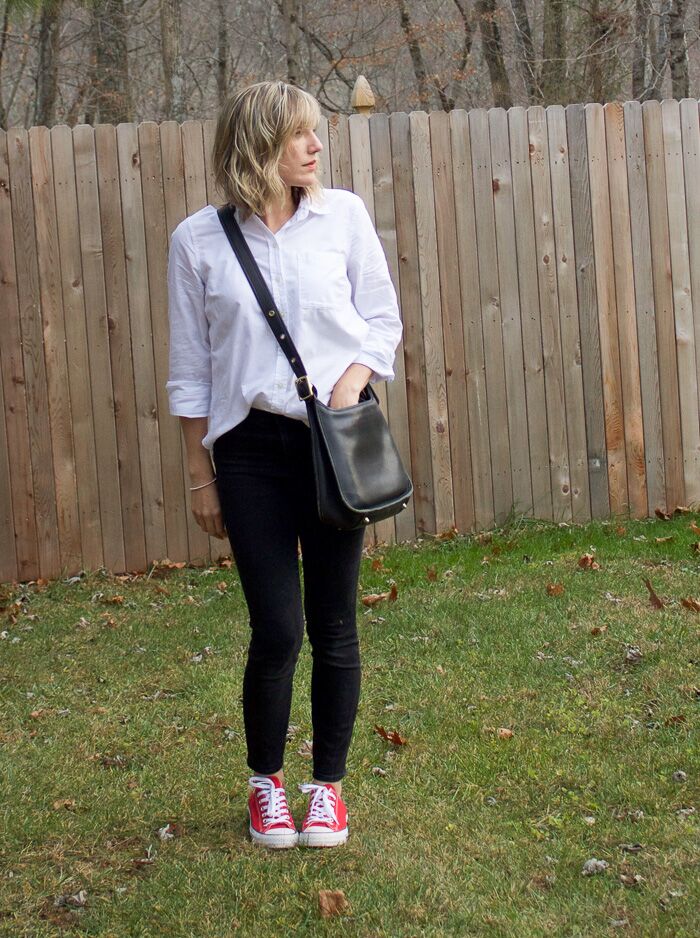 I own two pairs of Chuck Taylors: all-black leather, and classic red. They are on my feet so often that I just wore a hole through the black pair.
I also own two pairs of heels: One for being a bridesmaid, and one for job interviews. I have not needed either in over 5 years.
Chucks, flats, and flat boots are who I am.
Thus, I needed to figure the absolute best ways to wear them. Below you'll find my system for looking great in Chuck Taylors.
Here's a click-through guide, in case you're strapped for time:
You can send a lot of the same messages with sneakers and flats that you can with heels: celebratory, outgoing, mysterious, even professional.
So for me, en ex-New Yorker who still walks fast and thinks heels hold me back, figuring out how to make Chuck Taylors looks great in a lot of different settings is way more productive than forcing myself into shoes that stress me out.
I'm also lucky enough to work in the most casual of office-casual settings, which is why wearing them to work is a regular move.
How to Wear Chuck Taylors
This very important concept—wearing Chuck Taylors to work—can be applied to any situation where you're called on to interact with other humans, and sneakers are generally accepted: holiday parties, dates, play dates, networking events, even a few weddings and job interviews will allow it (those are the really good ones).
Still, I have guidelines for wearing Chucks.
The guidelines are simple.
They are also just that, guidelines. I encourage rule-breaking.
1. Consider Color when Choosing Chuck Taylors
If you're wearing brightly-colored Chucks (I recommend crisp red) make your outfit one of neutrals.
If you're wearing neutral Chucks, add a pattern, pop of color, or unique accessory elsewhere in your outfit, and let the Chucks fade into the background.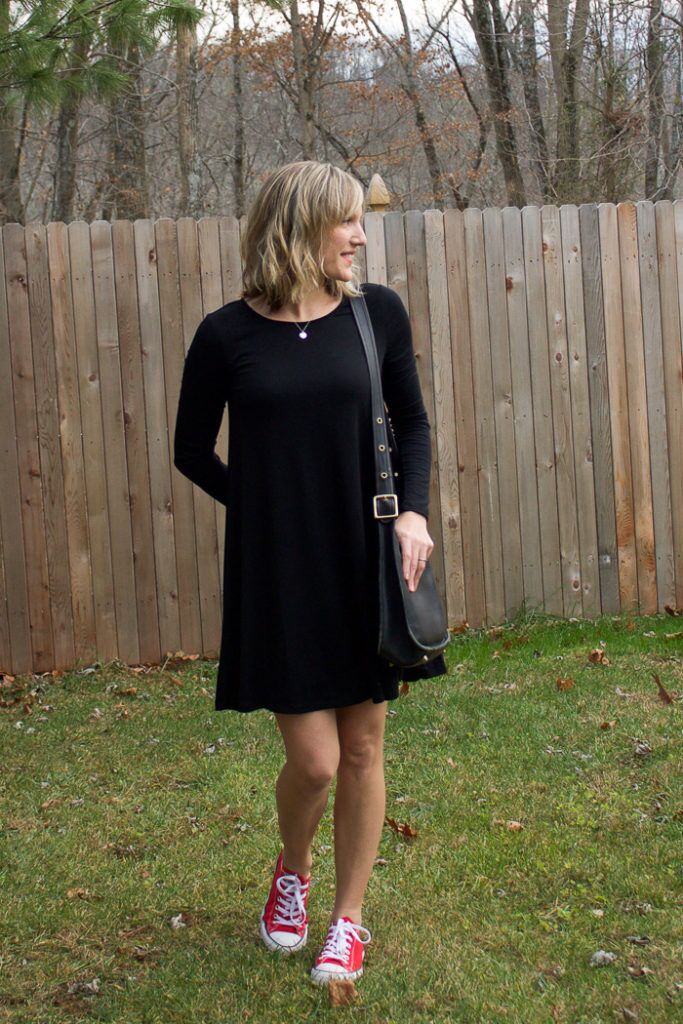 2. Consider Cut when Pairing Chuck Taylors with Bottoms
Because Chucks give off a laid-back vibe, make the item closest to them, your pants, a little more tailored. Skinny jeans work great, a pair with a slight crop work even better.
For skirts, anything above-the-knee or below-the-ankle looks good with Chucks. The midi-skirt generally doesn't work; It creates too many horizontal lines across your leg in too small a space. This confuses the eye. The effect can be disorganized when you're trying to look pulled-together.
That's it! Simple rules for a simple shoe.
Now, a word on why it's a good idea to wear Chuck Taylors to work and beyond, even if you are one of those people who thinks there's something great about heels. Especially if you are.
Why You Should Wear Chuck Taylors to Work
They make you feel like an extrovert, even if you aren't.
Here is how it happened to me. I bought my most recent pair of Chucks on a speed-shopping trip with two of my friends. I had determined that ivory Chucks would give me the best bang for my buck. But once we were in the store, I grabbed the color I was drawn to: red.
I waffled about returning them all weekend. Then, on a lovely warm Wednesday when I was feeling tired and dreading my jam-packed meeting schedule, I put them on for work.
You know what happened? I had an amazing day.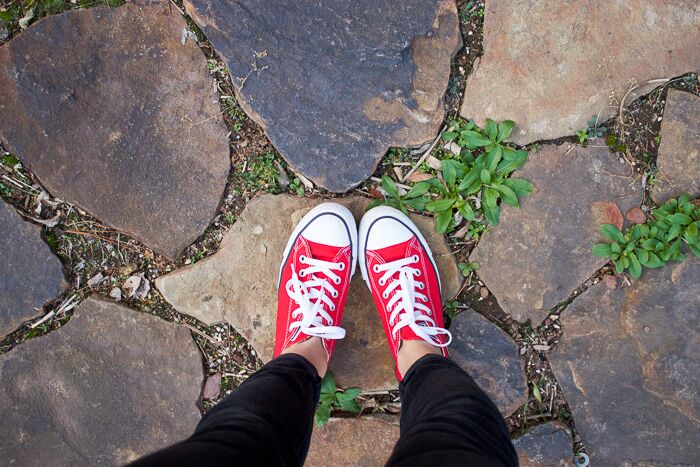 What Happened When I Wore Chuck Taylors to Work
8AM. DAYCARE.
At daycare drop off every toddler in the room came over in some sort of trance, pointing one sticky finger and saying "red shoes!"
9AM. COFFEE LINE AT WORK.
The first two coworkers I saw complimented my shoes and told me they'd had Chucks in college and missed wearing them.
10AM. MY DESK.
The next two I saw complimented the color.
10:05AM MY DESK
A third came over and showed us all a photo of he and his wife's matching maroon Converse high tops. This started a heated debate: Is matching your spouse cute, or overkill? Most of us said cute.
6PM HOME…Already!
Pretty soon I had made it through every meeting, smiling, with comfortable feet.
The Chucks went way beyond expectations and turned me into an extrovert for the day. A happy one. I swear these things are magic. All through the day coworkers pulled me aside to share a memory or a story.
The History of Chuck Taylors and Why Everyone Reacts So Well to Them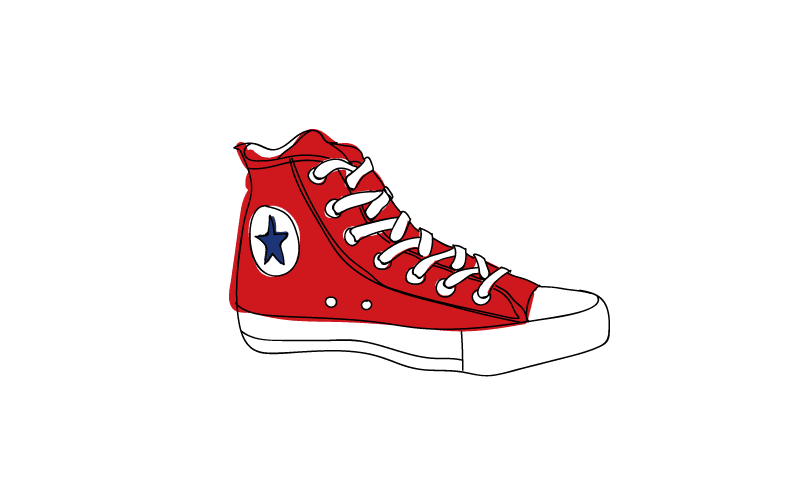 When I dug into the history of the brand, it all started to make sense. Chuck Taylor All Stars have been around, in one form or another, since 1917. They're classic and comfortable, and can evoke both a crisp preppiness and a laid-back rebelliousness at the same time. To me, a new pair of Chucks, in red specifically, is the anchor to a perfect Power Suit.
The first pairs were simply Converse high tops made in brown with black trim.
By 1932, they started bearing the name of basketball player and legendary shoe salesman Chuck Taylor, who made some key design changes.
The white high tops were worn in the 1936 olympics and became the official sneaker of the United States Armed Forces in World War II.
By 1957 Converse owned 80% of the sneaker industry.
Athletic shoes took off in the 1970s and new brands, with more bells and whistles, came on board.
At this point Chucks became a rebellious choice because of their simplicity. They were less of an athletic shoe and more the laid-back stronghold of the boomer generation.
Now, owned by Nike, and available in an array of colors, Chucks can look good in a ton of situations, and seem to evoke happy memories in people of all ages. Probably because they're so comfortable.
Some Chuck Taylor-Related Shopping Suggestions
The author of this post earns a small commission for products and services purchased through the link(s) in this post.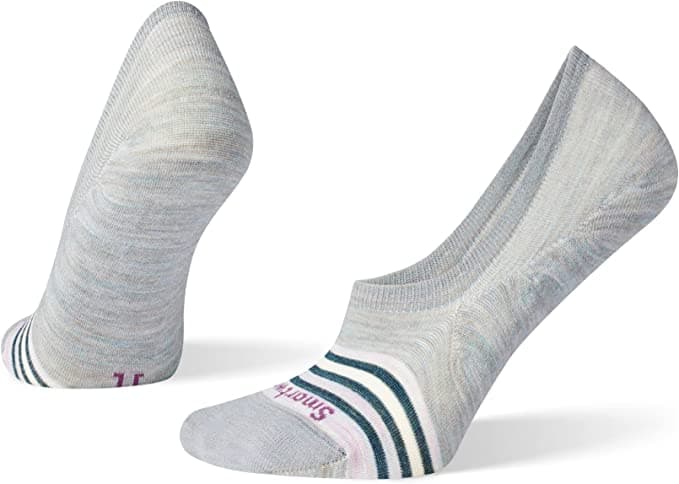 Bag: Old "Janice" Coach Bag from eBay, search for "vintage black leather cross body coach bag"
If you like this, check out Why Complimenting Clothes Isn't Shallow