In this installment of "What's Your Power Suit?" body positive boudoir photographer, Cheyenne Gil, shares what to wear for self love, and unapologetic celebration. Check out her gorgeous Instagram account to get a sense of her work.
PS: Tell us about yourself and your work.
CG: I'm Cheyenne and I'm a body positive boudoir photographer. I have a bad ass poodle named Penny. I love cheesesteaks. I love fries. I love pizza. I love my mom. I love jewelry. I love my belly rolls. I love my legs. I love my eyes. I love getting women in front of my lens and showing them how important it is to love your body, which will lead you to loving your mind and soul as well. It's all connected. I live for what I do and it's my mission to show you and every other woman in the world that it's OKAY to love yourself—mind, body, and soul—all of you. It's OKAY to celebrate you.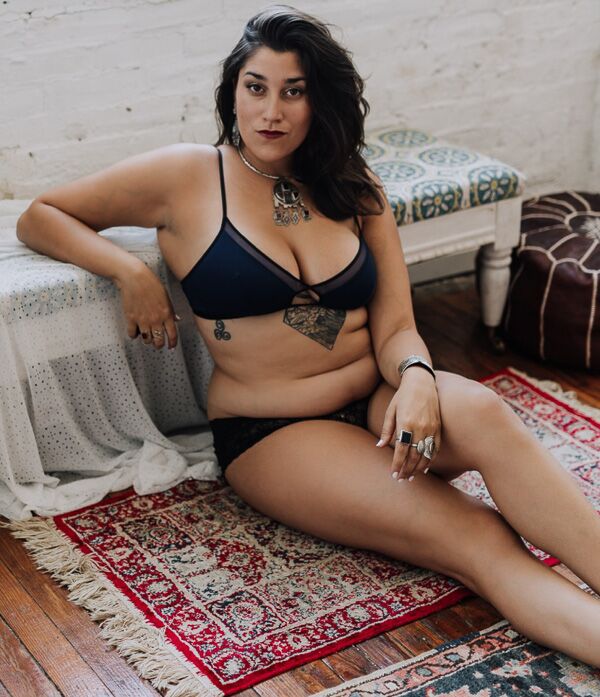 PS: That's such a powerful message of self love. I do think a lot of us (okay, all of us) need help along the way. Do you have an outfit, item of clothing, or accessory (past or present), that holds some "superpower" for you?
CG: For me, it's jewelry. I don't have just one piece that is my go-to. I love all of my jewelry and I pile it on! It makes me feel like a warrior. Jewelry has always been something I loved and that made me feel strong and powerful. My mom has always worn jewelry, and she used to take me to Native American art shows and Pow Wows and we'd try on all the beautiful pieces (and she'd buy them for us to share). So for me, my love for jewelry has only grown over time!
PS: Tell us about your favorite jewelry.
CG: Most of my favorite pieces have come from my mama! Others, I've purchased in Morocco, Colombia, and even good ol' Forever 21! My favorite pieces are chunky, silver, and heavy. I love all my chokers, and I have a set of rings I wear every single day!
PS: How do you wear your jewelry with other items usually?
CG: Oh girlllllllll I throw tons jewelry on with EVERYTHING I wear! I don't care what I'm wearing (although, I usually stick to neutral colors), I throw on a ton of jewelry.
PS: Does it inform your overall sense of style and dressing?
CG: Oh hell yes.
PS: Do you use any rules for dressing or building your wardrobe?
CG: I very rarely shop for myself. My only rule is that I have to LOVE whatever it is I'm buying. That way I'll know that I'll wear it!
PS: What advice—style, goal-hitting, or otherwise—would you like to share with other women?
CG: Speak your truth. Stay true to who you are. Wear whatever the hell you want. Walk with your head high.