As a conversation starter, I've been resorting to "shallow" clothing compliments a lot lately.
Meaning, I have been making a good deal of positive comments on what people around me are wearing, such as:
Cool shoes.
I like that jacket.
Where did you get your laptop bag?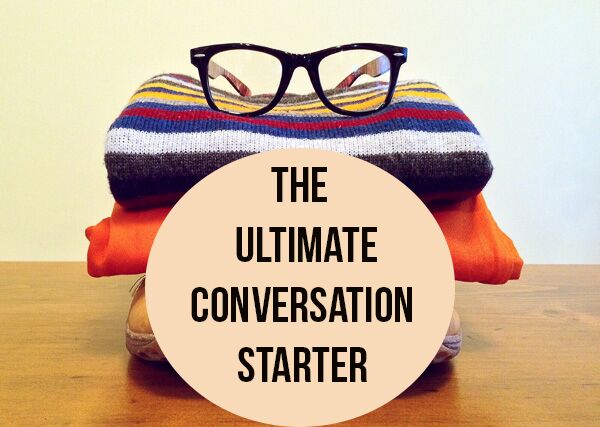 Partly, I'm complimenting clothes as a conversation starter because ever since finding out the positive psychological benefits compliments have on both receiver and giver, I want to give more.
I'm also giving this type of compliment a lot because, at my office, a department of coworkers that I don't know very well just moved closer to where I sit, and it's part of a system I use to get to know someone.
If I know next to nothing about a person, I resort to using something in our shared physical space to strike up a conversation. A lot of times I can make a joke about the broken coffee machine in the office, or even tell someone their lunch smells delicious.
But outside the kitchen, it's tough to think of anything to focus on, outside of someone's outfit. So I use that to my advantage.
Once you break it down, the outfit compliment is a useful tool.
Why Complimenting Clothes is a Great Conversation Starter
People tend to like and/or identify with what they choose to wear, so in some sense, you are complimenting their taste.
If you just met, this is a perfect way to open up a larger dialogue. I've tested this hundreds of times. Ninety percent of the time the receiver of the compliment will thank me and then follow up with a detail such as where they got the item or why they wore it.
The key in this situation is the follow-up question. This is how you keep the conversation going and find out enough about the person to be able to compliment them on something deeper at a later time.
I call this move the "Compliment-to-Conversation."
A Sample Compliment-to-Conversation
Me: I love those sneakers.
New Friend: Oh thanks. They are really comfortable.
Me: Do you wear them for workouts too?
New Friend: No I wear a different pair for running.
Me: Oh you're a runner! I love running. Do you like distance running?
And BOOM! Now you know something more substantial about the person and you can file that away for the next time you see them and need to start a new conversation. "Hi Friend! Have you been on any long runs lately?"
So, while I do think society as a whole is way too focused on appearance, I also don't think appearance should be completely ignored, as it can be used as an easy way to build relationships. As long as the comment is sincere and the goal is to make a connection, the "shallow" compliment is not just okay, but a secret weapon.
Read more about workplace social life:
How to Accept a Compliment Gracefully
The Level-Up Method: How to Get a Compliment Tomorrow