In this installment of "What's Your Power Suit?" Gaby Merediz a life and Lamaze coach—who specializes in teaching mothers to reconnect with themselves—shares how to wear palazzo pants as a jeans alternative. She has dubbed her solution "fancy pants" and we can't think of anything better.
PS: Tell us about yourself and your work
GM: I'm Gaby. I'm an entrepreneur, an artist, a writer, a mother, a wife, a sister, a hula hooper. I read, I write, I learn, I cook, I dance, I tame two crazy children on the daily. I have been many things, and there are many more to come.
Once, I was a new mom who was obsessed with motherhood. I quickly realized that it was so easy to become sucked into the madness of parenthood that I lost all of those other things. So many moms mourn who they used to be.
I help them get back to themselves.
I own Make Your Perfect, where I teach mothers how to have more fun even when it doesn't seem like a priority. There are so many resources out there for moms. But parenting resources just make you feel like you should be doing more, more, more. All of those funny or inspirational mom blogs give you something to relate to, but they don't help you take action. You laugh as you read a blog post, then go back to yelling at your kids.
Make Your Perfect is a place where you can be real about the struggle of motherhood. But it's also a place where you can learn how to take those steps to get out of the overwhelm.
In 2015, I published Make Your Perfect: A Coloring Journal. It's a coloring book and journal that's designed for mothers who want to stop feeling lost but don't have much time or motivation for self-care. Quick and easy prompts get you thinking about who you really are. Coloring pages let you zone out when your kids force you to color with them.
PS: Do you have an outfit, item of clothing, or accessory (past or present), that holds some "superpower" for you?
GM: Fancy pants. I didn't realize it until recently, but I've always worn fancy pants.
PS: Where were you when the "power" of these fancy pants became apparent?
GM: I've never been a fan of jeans. They're the all-American article of clothing, and it seems like every magazine has an article about "how to find jeans that fit like a glove" or "How to find the perfect pair of jeans for your body type." I still haven't found mine.
So in high school and college, I would scour the Goodwill for '70s style pants. Back then, my power suit was those polyester, elastic-waist pants that old ladies wear. Seriously. Trust me, I rocked them.
Then I graduated, and as the years went by, those types of pants were harder to find. Sniff. I was getting old.
Fast forward a decade. I had my first kid. I started my own business.
But my body had completely changed, and it was hard to find clothes that felt like me. Yoga pants it was. But I just felt sloppy and frumpy all the time. Summers were really hard. It's hot and humid here in coastal NC during the summer. For me, shorts are just as bad as jeans. They're just not comfortable, and they make me look like a weird kind of grown-up 10-year-old.
To make matters worse, after gaining 50 pounds with pregnancy and not being able to shed the weight, I didn't feel comfortable in my body anymore.
On a whim, I bought a pair of cute palazzo pants from one of those random discount, made-in-China fashion websites.
When they arrived, I was ecstatic. They were made of swimsuit material—perfect for hot summer days. I didn't even have to hem them—I just cut off the bottoms to the right length. Even better, they hugged my curves in all of the perfect places.
I started wearing them as much as possible. It was crazy how many compliments I got. It's now a running joke in the family. I can't go anywhere without people commenting on my palazzo pants.
But I didn't realize they were my power suit until I was bored and scrolling through outfit ideas on Pinterest one day. Frustrated that I couldn't hone in on a particular style, I posted on Facebook, "I wish I had a go-to style. I feel like it would be much easier to get dressed in the morning."
That one post got tons of comments.
Everyone told me that I did have a go-to style. It was my fancy pants.
PS: Can you describe your favorite pair of palazzo pants / fancy pants?
GM: My favorite fancy pants are navy blue with a design that's reminiscent of Mexican fabric. I wear them everywhere: camping, hula hooping, to music festivals, to professional gatherings, on playdates, and on real dates. Sometimes I sleep in them. I'm terrified that they're going to wear out and I won't be able to wear them anymore.
Here's a photo of me wearing them while hanging out with one of my kiddos.
I even wore them when my coloring journal was published: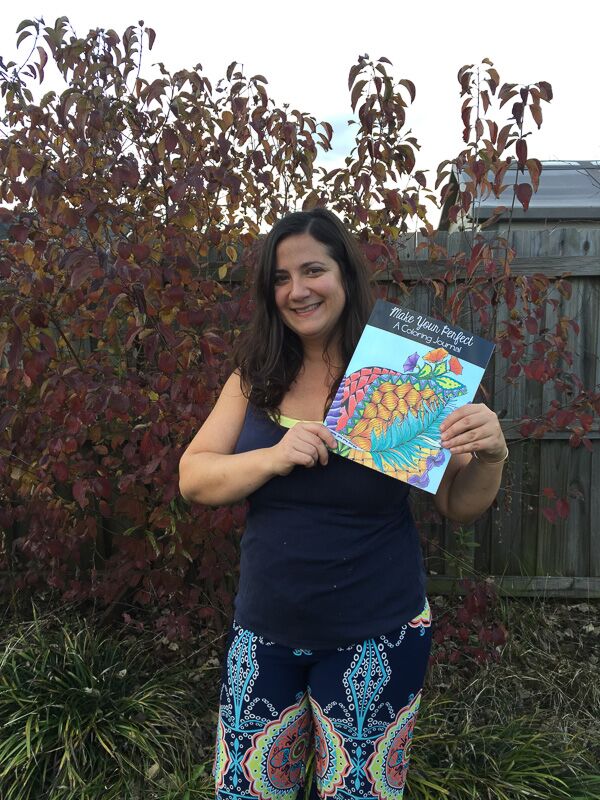 PS: How do you wear palazzo pants with other items?
GM: It's so easy to toss on any solid top with fancy pants, and you automatically have a really striking outfit.
I usually wear them with a tank top and a cardigan, but I'll throw them on under a thick sweater or flowy tunic.
PS: Do your palazzo pants inform your overall sense of dressing?
GM: I am not skinny. I have a belly after having 2 kids. But for some reason, I don't mind showing it off with a tight tank and my pants. The fact that they usually have fold-over yoga waistbands makes them slimming, and they never cut into my love handles like jeans do.
Before I rediscovered the fancy pants, I wore a lot of empire-waist tops. Who am I kidding? I was still wearing a lot of my maternity clothing. Wearing clothing that hugs my curves makes me feel more sensual, sexier, and more like a grown woman.
PS: Do you use any rules for dressing or building your wardrobe?
GM: Whenever I find tank tops that fit well in solid colors, I snatch them up. And, of course, I buy fancy pants whenever I can.
Here's a peek at my collection of fancy pants.
PS: What advice—style, goal-hitting, or otherwise—would you like to share with other women?
GM: I have struggled with body image all my life. Objectively, I understand all of the amazing things that my body can do. But one of the things that I'm working on in my journey to optimal living is loving my body unconditionally.
Sometimes I think that I will look better if I can be more on trend. I'll look up fashions on Pinterest, and I'll try to model them. But then I always feel awkward. I don't feel like myself, and I end up hating my body because it doesn't fit into the new clothing I've bought.
And then I go back to my fancy pants and do a little dance in front of the mirror.
My advice for other women is to go with what feels good. Whether it's what you wear or what you do. Explore the pleasure that comes with life. You're not just one label. You are a complex anthology of so many different things. These are what make you amazing.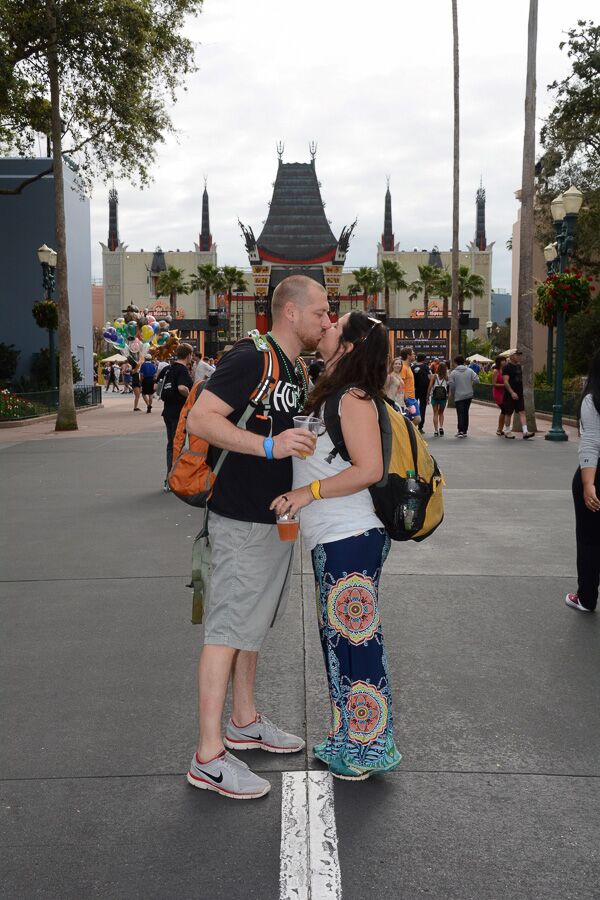 Check out What to Wear on Long Flights, too!